I can't even tell you the lack of sleep I'm typing on, but I.am.so.ex.ci.ted I just have to tell you this!
This sandwich kitchen was featured on not one but two really awesomesauce blogs!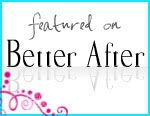 This is a great blog for lots of creativity and neat-o projects
...And...
Here on one of my fav-or-eeet daily reads
Kimba's bloggity blog was one of my first daily reads! Crazy to see my lil corner of the blogosphere on her page!
These two features brightened my blog wayyyyy more than I can describe and I am so thankful for all the peeps that came to visit! Shout outs all around!
Happy weekend, I'm hoping to find a moment to catch up in the next week,
when I'm not quite so busy!
s:)